Saturday, after breakfast, Ace and I went out to explore the backyard.  I was excited!  Ace was curious!  We were going to have one hell of a time rolling around in the grass and digging holes with sticks!
Not long after putting Ace down in the grass I realized we had a major issue on our hands!
POOP EVERYWHERE!
There is a whole winter's worth of Buddy turds scattered across the newly discovered playground we like to call the back yard.  Images of Ace chomping on a dried up crap-biscuit flooded my previously serene mental state.
I sprint inside for a plastic bag.  Then race to the shed for a garden shovel.  Then back into the house for some toys to keep Ace occupied while I partake on yet another glorious aspect of being a parent…disarming the mine field!
Off I go!  Scooping, and smearing, and plopping booty-cakes into a plastic grocery bag…  😐
Despite my best efforts, disaster was inevitable.  A casualty was encountered.  Here is a picture from the case file…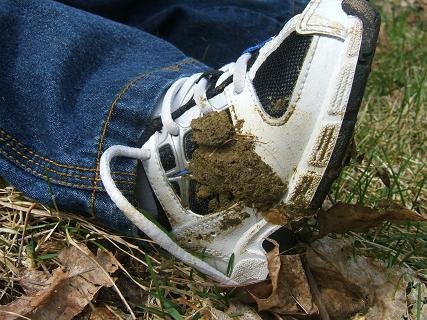 I immediately gathered up the victim and raced inside to perform an emergency poop-endectomy.  This was an urgent matter that had to be dealt with and covered up before Momma found out.  Why?  These were his good shoes!
The poop-endectomy was a success!  The shoes were as good as new, however completely soaked and temporarily unwearable  from the operation. 😀