Vacation to Iowa was great! It was nice to get away from the daily grind for once. No rush hour traffic. No cell phone. No worries!
We left at about 3 AM on Thursday night.  It took us about 14 hours and two tanks of gas to get from Ohio to Storm Lake, IA. (Can you say "Empty wallet and pooped?") Have you ever driven across the Midwest? It is sooo exciting!!! Here's a picture I took through the rear view mirror with my camera phone to show you just how much fun we were all having… 😆
We stayed at a hotel in Storm Lake called King's Pointe. We reserved a double queen suite with a crib and a lake view a few weeks before hand, but when we arrived we got a handicap double queen room with a parking lot view. 🙁
The handicap room would not work because it had no bath tub for Ace, and we really wanted the lake view with a balcony (the hotel was non-smoking and the balcony would be our smoking area 😆 )
After a bit of persistence they gave us the room we reserved and all was well.
The hotel had an indoor and outdoor water park! (I was so excited…I'm just like a little boy when it comes to this kinda stuff 😆 )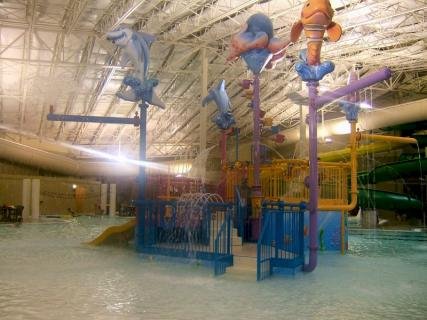 The closest Ace has been to going swimming was splashing around in the bath tub, so I was very curious to how he would react to the swimming pool. After a few minutes of scared-shitless-ness accompanied by a white-knuckled-death-grip on Dad, Ace started to relax and enjoy himself!
We had so much fun being in the water with him that we really didn't get out to take many pictures of his first time swimming! Here is one that I managed to snap of Ace and Momma lounging in the pool…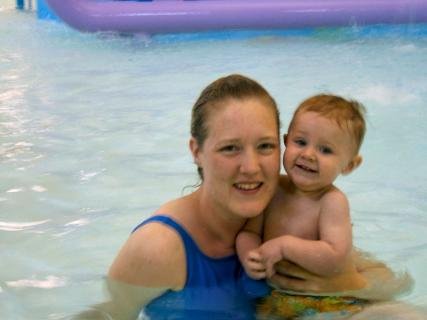 Even though he thoroughly enjoyed the swimming pool, he was utterly amazed by the fountain…
…or was it the Bud Light sign? 😆
One reason we went to Iowa was to visit some old friends who's daughter was graduating from high school. We went to the graduation, which was in a small non-air-conditioned (Can you say "Hot As Balls?") gymnasium.
Ace has been self-propelled for a while now and really likes it that way. Ever since he has learned to move under his own power, he absolutely forbids to sit still. It was hot in the gymnasium… sweaty, and smelled like the locker room after football practice! So, I took off Ace's restraints (joking!) and took him outside to play in the shade while Momma stayed inside to watch the graduation ceremony.
We get outside and there is no shade! So I'm chasing after Ace in the burning sunlight on concrete hot enough to fry an egg when I smell something a bit different than the sweaty smell I had become accustomed to in the gymnasium… You guessed it…I smelled a baby biscuit getting baked in Ace's diaper!
Luckily I grabbed the diaper bag on the way outside, but there was no where to change him.  So, Ace and I head off on a two mile trek to the car where we enjoyed a fresh diaper, a drink, and 45 minutes worth of gas wasting air-conditioned heaven! 😆
The drive back to Ohio was not so nice. Ace had some of his molars breaking through the skin, and he was not enjoying the car ride a single bit.  So, we stopped half way and grabbed a hotel room in Illinois.  Luckily, I travel a lot for work and earn TONS of hotel points, so we got a room for free for the night. The hotel had a pool where we spent most of the evening splashing around…
After a good swim and getting a good nights sleep we headed out in the morning to finish the last half of our journey home. We took our time. We stopped for a packed lunch at a rest stop with Mr. Smarty Pants himself…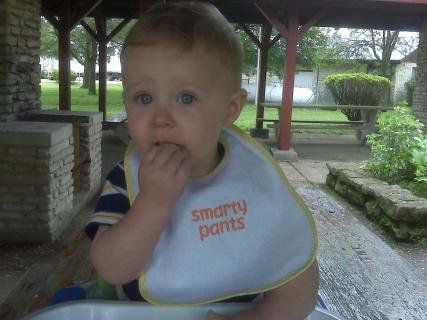 …and then Ace napped most of the rest of the way home…
Despite the sore rear ends from sitting in the car for over 28 hours, the mix up with the hotel room, the incredibly hot gymnasium, the fried diaper biscuit, and the crying restlessness of a teething child strapped into the back seat of a gas guzzling SUV…we had a very good time and enjoyed the visit with our old friends!
Back to the grind… Ughhh… 😆