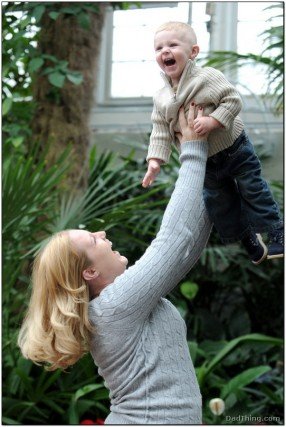 September is a month of celebration in our household.  Between our anniversary, the blogiversary, and Momma's birthday we usually get to go out to dinner, usually the bar, and I get to have 3 easy blog post topics.  😀
So, today is Momma's birthday.  She is *cough* twenty-nine *cough*.  No, really she is!  And she will probably remain this age for the rest of her life.   Isn't that how most women do it?  😀
Tonight, Momma is having a Girls Only party for a few hours (and so that means, by default, the guys get a Guys Only party too). 
Then later, we are all going out on the town together to do some bar hoppin'…consume more (insert your poison of choice) than we probably should…get a little bit crazy…probably indulge in some bad dancing…and if all works out we'll stumble our sweaty, crunk, giggling selves to our hotel rooms before they start spinning for the night.  😀
So, here's to my wonderful wife…the stay-at-home mother of our child…Momma! 
Happy Birthday Momma!  Put your party hat on…tonight is gonna be fun!
PS:  And a special "Thank You" goes out to Grandma S for babysitting for the night!  😀