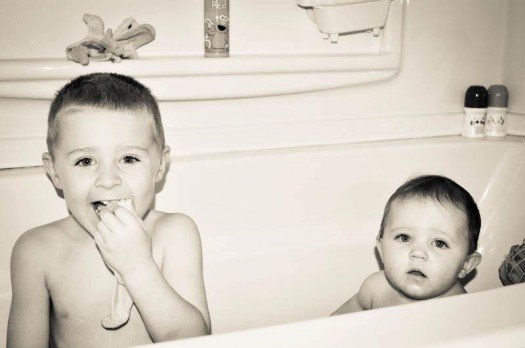 Since Valerie has been born her and Ace have always had separate baths.   They like to play in the bath tub, so it takes almost an hour to give them both baths, get on the PJs, and get them to bed.
So, I figured I would try and save some time by letting them bathe together.  Even though they are boy and girl, I figured that they are young enough that it would not matter.  There I go figuring again…
So, I wash Valerie first and then move on to Ace.  I'm washing his hair when he lets out a blood curdling scream… "Oooowwwwww!"
"What the hell did I do?", I think to myself…  Did I scratch him?  Does he have soap in his eyes?
And then I look at Valerie…  She has a handful of Ace's junk and I am pretty sure she was trying to rip it off!
Ace's screaming was justified…  🙂