We spent the last week of our vacation in Duck, NC.  We (PaPa, Grandma, Uncle Charlie, Uncle Mike, Livi Shea, Ace, Momma, and I) rented a beach house about 500 ft from the beach…our little home away from home…
We were greeted in NC by Hurricane Bill with large bone crushing waves and high winds, but everything calmed down by the third day.
We did not do a whole lot there (isn't that the point of going to the beach?). 
Ace, A.K.A. FishBoy, and Olivia had never seen the ocean before so they were in complete amazement when the waves would crash down and roll over their feet…
We went on a Dolphin Cruise where we took a relaxing boat ride out into the sound and saw live dolphins in the wild… Did you know that wild dolphins have pink bellies?  Me neither…
The Dolphin Cruise was a sunset cruise, so we got to see the sunset…it was breath taking to see the sun set over the water…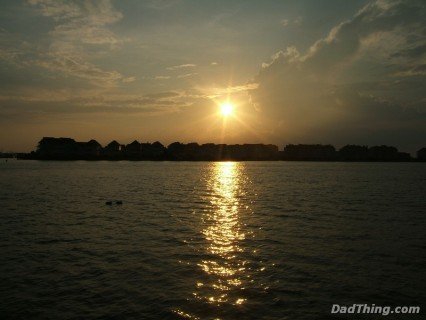 And the skies after the sun set were equally as eye cathcing…notice the moon peeking it's head out into the daylight…
As fun as the dolphin cruise was, nothing beats playing on the beach.  Of course someone has to be buried…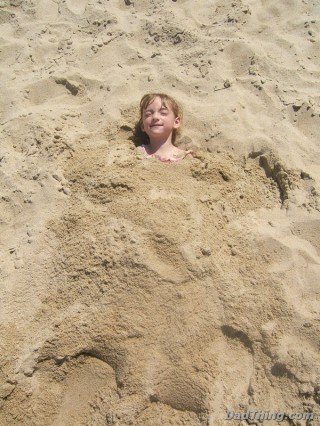 …and sand castles have to be constructed with precsion…
We even got to experience the beach at early morning and at night.  At night the crabs run wild.  We went down with our flashlights and chased the crabs across the sand back into the water.  Those little buggers can scoot!
We got up early one morning to watch the sunrise.  I have never in my life took time to sit down and watch the sunrise.  I mean, I've seen it rise while driving to work, and I've been outside when it has risen, but to sit and watch it's every move is something that I will have to try and do more often.  The view was overwhelming…
All in all we had a fantasic time!  It had to be one of the most fun two weeks that we have ever had.  Momma is already busy planning next years vacation…