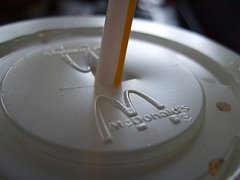 I left the house at 4AM this morning to catch a 6AM flight to Baton Rouge, LA for work.  I arrived in Baton Rouge about 9:30.
I was hungry.  I skipped breakfast, so I stopped at McDonald's and got a breakfast meal…somewhere around 9:45 AM.  I usually get orange juice with my McDonald's breakfast, but since I had a two hour drive ahead of me I got a root-beer.  The root-beer is bigger and would last longer.
Anyways, I was driving down the highway enjoying my breakfast and root-beer on the way to the place I was working.  Over the course of the two hour drive I finished the root-beer.  It was flat and tasted a bit funny, but I was thirsty so I drank it anyways!
I finished my job and hit the road at about 2:00 PM.  I was thirsty again, so I stopped at a gas station to get a drink.  When I picked up the McDonald's cup out of the cup holder, I shook it to see if it was empty.  To my surprise I heard…
THUMP….THUMP…
Why was the cup thumping when I shook it?  It had been sitting in the 80 degree car for over four hours.  All the ice should have been melted, right?
I opened the lid of the cup to see what the hell was going on.  What I saw made my stomach wrench!
I'm sure you've heard the stories about finding fingertips, mice, and other strange objects in fast food.  What I saw was not as bad as a fingertip or dead mouse, but it still grossed me out!
I saw a soggy chicken nugget!
Somehow a chicken nugget found it's way into my root-beer…and I drank the whole thing without noticing…
The chicken nugget was just lying there at the bottom of my cup.  All of the breading had become soggy and broke off.  Pieces of the breading were covering the inside of the cup.  I probably sucked up most of the breading through my straw when I was drinking it though…
The thought of a chicken nugget being in my drink doesn't gross me out.  Added protein, right? 😀
What grosses me out is that it was 9:45 in the morning.  They were still serving breakfast… Chicken nuggets shouldn't have even been out and about yet.  So where did this chicken nugget come from? 
Did someone find it on the floor from the previous night and put it in my cup?  Ya know, after the mice, flies, and bugs got through nibbling and shitting on it?
Was it an uncooked chicken nugget that someone put in my drink?  Can you say salmonella..!
So, if I die from drinking McDonald's root-beer I want all of the Mom and Dad bloggers out there to unite and form a group.  The group will be named P.A.C.I.F.I.E.R.
Parents
Against
Chicken Nuggets
In
Fast-food's
Icy Drinks,
Especially
Root-beer
Take McDonald's to court.  Sue them.  Give some money to Momma and Ace to make sure they will be taken care of for the rest of their lives, and donate the rest to charity.
Can I count on all of ya to follow through with this?
I've got other things to think about right now…like keeping my dinner down. 😐
McDonald's cup photo by SoloXis