While Ace can be one hyper kid, that is not what this post is about… 😀
We recently took a trip to the awesome World Of Bounce!
World of bounce is fairly new here in the central Ohio area and is so much fun!
Ace, his cousin Olivia, Grandma S, Momma, and I all went for the Family Bounce Night.  Which was quite the deal…  We got to bounce for 3 hours, a large pizza, and drinks for everyone for only $25.
Ace ad Olivia loved it…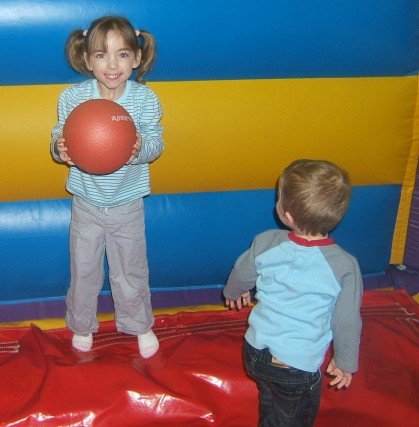 They had four different "bounce houses".  The one pictured above was a bouncy basketball court.  They also had a huge slide that was probably over 20 feet high, and also two other giant bounce houses with slides, ladders, and numerous obstacles to bounce off of.
The coolest part was that the adults were free to bounce too!  Let's just say that I forgot just how much fun it was to slide!  😀
Here are a few more pics…
Ace was one of the younger and smaller kids there.  Most of the kids were 4 to 10, I would guess.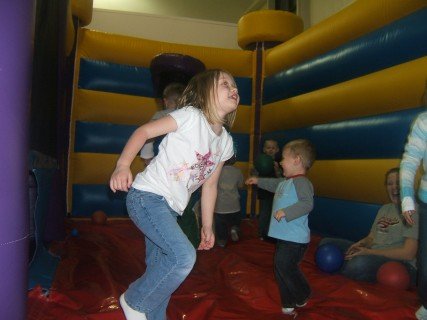 Of course there were exceptions to the rule.  There were some kids pushing the 12-14 age group and they were being kinda rough seeing how there were much younger kids around.
The funniest part about the whole trip was when we were in the basketball court bounce house.  Ace had a thing for the only yellow ball in there.  He would grab it, throw it, run after it, and grab it again.
Then the older/rougher bunch of kids came in there and they grabbed the yellow ball.  One of the older kids fell down holding the yellow ball and Ace saw the opportunity.  He ran right over and took the ball out of the kids hands.
The older kids looked at each other like "What The…?".  It was funny because most of the kids would leave when the bigger kids got close to them, but Ace went up and took his ball back.  I loved it!  😀
But anyways, if you come to the central Ohio area and have a few hours to bounce around…check it out!