The second day of our vacation we decided to just hang out at the hotel.
The hotel was more than just a hotel…it was a resort.  There was over 100 acres with 30 buildings, a pool, a grocery store, a restaurant, a bar, multiple ponds, and three pools.
This main pool was the most amazing pool I have ever seen!   Orlando has been built around entertaining kids, and this pool sure followed that tradition.  There were fountains, waterfalls, and volleyball nets in the pool.  Here's a quick pic I took…
Pretty sure Ace is part fish…  Once the kid got wet…we only took breaks to eat and sleep.  😀
After swimming in the morning, Ace went to feed the ducks…which was one of the activities for the kids. (There was a new activity every half an hour.)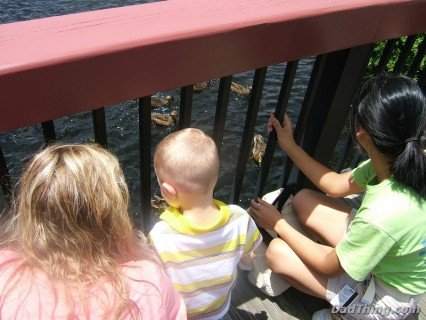 And as a bonus we got to feed a few turtles that decided to crash the party and steal some bread…
On our way back to the room I snapped a few pics of some of the hotel scenery…not that kind of scenery…get your minds out of the gutter.  😀
I was talking about some of the fountains…
And to end the day the hotel had "Movie Night at the Pool".  They brought out a projector, lit a fire to cook some smores, and popped some popcorn.
We did some swimming, then chowed down on popcorn and smores.  And on the walk back to the room, Ace gave up….  If someone was carrying me…I would've gave up too.  😀