Today was a good day…one of the better ones I've had recently.  What did I do?  Nothing which will make you say "WOW!  Jared is truly amazing!"  Ace and I simply hung out all day long.
Ya see it has been a while since Ace and I have really been able to hang out…guy style.  I'm talking getting up early, running around in nothing but a diaper (underwear for me), getting dirty while playing in the dirt with no shoes on (and not wiping it off), riding the mower (which still doesn't mow by the way), eating sand out of the sandbox when Dad turns his back for a half a second (it comes out looking like sand too),  going to the park (got even more dirty), and then coming home to relax on the couch and watch some Noggin till Momma gets home.  Good times…good times!
I've been working long hours during the week, usually getting home late and only seeing Ace for about an hour before bedtime.  By the time I get home the nightly routine has began…dinner, bath time, PJs, and shortly after…bed time.
Then on the weekends we usually have some place to go and someone to see.
When Momma was working, Ace and I hung out guy style all the time on the weekends, but now that Momma stays home all week she really wants to go somewhere on the weekend, so we are very rarely home on the weekend.
I think I may start offering Momma the chance to get out of the house to be kid and husband free on Saturday, which will give her a chance to go hang out with some of her friends and give Ace and I more of a chance to do our guy things.  😀
Sounds like an even trade to me, you think so?
On top of having an awesome day with Ace I also  discovered a few bloggy friends gave me some cool awards and props!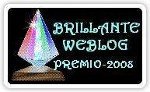 KylieM from My Digital Life gave me the Brilliante Weblog award.  KylieM is a long time reader here at DadThing.  If you are into scrapbooking, photography, or kid stuff… you should definitely check out one of her blogs.
And then John over at ModernParent.org links to a few of my posts.  John is a first time father who shares his experiences about being a father in the 21st century.  Check out his blog for some cool stories and parenting tips from the perspective of a new father.
And last, but not least VegasDad, from iVegasFamily, awarded me with the kick as blogger award!  Any award with the word "ass" in it has to be cool…well, unless it is preceded by the word "dumb" or "stupid" or "stank"…you get the point!  Go check out Vegas Dad's blog.  I promise it is not dumb, stupid, or stank…just kickin'  😀
Oh yeah……Momma went to the doctor on Friday and is definitely pregnant.  The suggested due date is April 11th.  We like spring babies around here…or Momma only ovulates around the month of June.  Who knows…  😀