I don't watch the news.  So when I flew into Memphis, TN this morning I was in for a big surprise!  Last night they had quite a few tornados.  I don't know all the details, but I did hear someone say that a tornado reached the EF4 status.  An EF4 has winds anywhere between 207 to 264 miles per hour!
As I was looking out the window of the airplane as we were coming in for landing in Memphis I saw something simlar to this…
This is one of those big power line towers that carry the high-voltage lines bent over and touching the ground!
I left Memphis and started driving to Jackson, TN where I was working today.  On the way I saw tons of damage.   The median on the interstate was full of branches and trees that had been pulled from the highway.  Whole trees (roots and all) were lying everywhere.  Trees were snapped off like little twigs.
I heard on the radio that within a five mile stretch on the interstate there were over 20 semi trucks rolled over from the wind last night.  They were cleaning up the mess from the last truck as I drove by.  I had a hard time finding my exit because all of the road signs were bent over so far that they were touching the ground!
I thought the damage I was seeing was bad, but I wasn't prepared for what I was about to see.  Once I got off on my exit I was greeted by this…
And right next to that was this…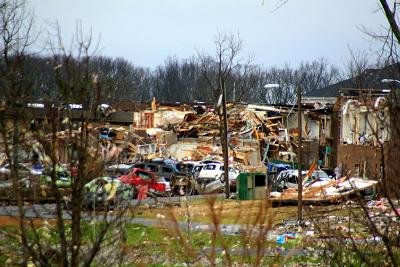 The amount of damage down here is just unbelievable!  I have never seen this kind of destruction first hand.  The pictures do not do it justice.  The feeling I got driving through this area was horrible.
Seeing the damage down here is a real eye opener.  It makes me realize how small we all are in the world.  No matter how hard you work, no matter how much you prepare, no matter how big or smart or tough or powerful you think you are…you are nothing compared to the forces of nature.  Everything you have could be ripped away from you without warning.
When I get home tomorrow I am going to give Momma and Ace a big ole' hug…just because. 😀
EDIT: Pictures used on this post are property of the following sites.  For more pictures  and information about the tornados visit the following sites…
http://bloggeddownworld.blogspot.com
http://picasaweb.google.com/j.razz1/…
http://www.jacksonsun.com